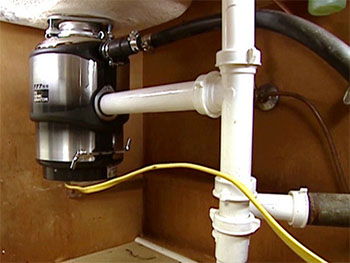 Homes require constant maintenance and repair, and can sometimes it can be quite a hassle to constantly repair your home. Fortunately, our team of handymen can help you fix any problems you may encounter. We understand the stress of home repair, and are willing to take the pressure of you so that you can focus on what's most important. One of the most common types of repairs needed is a kitchen disposal repair.
The kitchen disposal system is often overlooked and considered unimportant, it is only after it causes problems that people notice the system. A kitchen disposal system is an electrically powered device that is often attached underneath a kitchen sink to crush food waste that makes its way through the drain. Food waste can cause blockage which is why a working kitchen disposal is needed. A broken kitchen disposal can cause many problems if not in working condition, some potential problems include the following.
Blockage – A blockage is inevitable and will happen every now and then, it will prevent water from passing through and can put a halt to all dishwashing and even cooking. Our handymen have encountered plenty of blocked drains and are more than qualified to provide kitchen disposal repair services.
Electrical Issues – The kitchen disposal is often an electrical device, and with time will eventually fail. In the short term it may not cause problems as the drain will still pass food waste and water, but eventually a blockage will occur due to the lack of a working kitchen disposal. Repairing your kitchen disposal before a drain blockage occurs is wise and could potentially save you hundreds of dollars in damages.
Leak – A leak is by far one of the most common home problems, and can be caused by a variety of problems. Some examples include a poorly installed kitchen disposal system, a cracked pipe, wear and tear, etc.
A simple system like the kitchen disposal can cause problems that are often not expected or taken into consideration. Luckily, all our handymen are experienced in kitchen disposal repair and can provide assistance with such problems. Our handymen in Sugar Land, Texas are awaiting your call and will respond in a quick and efficient manner. Whether you need a kitchen disposal repair, installation or replacement, we have the best kitchen disposal systems and some of the best handymen in Sugar Land, Texas.