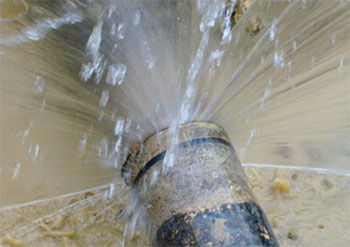 A home is where one returns to rest, to be with their family, and is a safe place from the outside world. However, a home requires constant attention as small problems occur all the time and will sometimes raise safety concerns for you and your family. We understand the importance of safety and will respond in the quickest and most efficient manner possible. Whether you have home concerns, or are in need of immediate repairs, we can help. Any home will eventually need repair, whether it's to repair a kitchen disposal system, a water heater, drain cleaning, or repair a leak. Leaks are quite common and can be hard to locate in some cases. Our handymen will not only identify any potential leaks, but they will also repair them and provide advice regarding preventive measures.
Leaks can occur anywhere and come in various sizes, some are small and unnoticeable, while some are big and will cause serious short term water damage. Although small leaks are often ignored, they can cause long term damage such as mold. A regular check-up could potentially save you from thousands of dollars in water damage. Some of the many problems that can occur from leaks are mentioned below.
Expensive Water Bill – A leak will result in a significant increase in your water bill, especially if it goes unnoticed and for a long period of time. This can also be an excellent indicator for a leak, and that you should hire an experienced handyman.
Mold – Although uncommon, mold can sometimes grow after a water leak. Mold thrive in damp areas, particularly around a leak. It is important to check for any potential mold after a leak has been repaired to ensure that you don't spend thousands to remove mold.
General Water Damage – Water damage is inevitable when it comes to leaks, especially in large leaks. Our handymen understand the importance of a quick response, and will repair the leak in the fastest and most efficient manner possible.
Regardless of the size of the leak, they can cause serious damage if left alone. Our handymen will not only provide leak repair, but also put in place preventive measures to ensure that the chances of a leak is reduced. Leak repair is a common service that any experienced handyman in Sugar Land, Texas will provide. Whether it is a leak emergency or general home concerns, contacting a handyman is always a good idea.