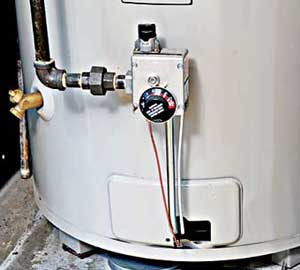 Home repairs are often overlooked, as many believe that the problems are too small or that they can repair the problems themselves at a later time. However, it has been proven that home repair by inexperienced individuals can often cause more problems.
Fortunately, we provide handymen that are experienced, professional and friendly. They understand the value of your home and would not perform any repairs that they wouldn't on their own home. A handyman can repair all of the most common home problems including kitchen disposal repairs, drain cleaning, and water heater repairs. A broken water heater can cause many problems and prevent you from taking a warm shower, cooking meals, washing laundry, or even wash dishes. Any experienced handyman know how to repair and prevent water heater problems including the following.
Water Heater Noises – There are a variety of causes for this type of problem, and at the same time is a sign that you need a handyman. It is possible there is a buildup of sediments, where the water heater is heating it up. Water heaters do not make noises and are most likely an indicator that a bigger problem could occur in the near future
Low Water Temperature – Some water heaters allow water to pass through without being heated, resulting in cold water. Although not dangerous, it removes the heating functionality of a water heater and should be repaired as soon as possible to bring back warm water.
High Water Temperature - This is much more dangerous as it can unexpectedly pour hot water, resulting in a burn. This is often caused by a failure in the electrical component that measures the temperature.
Our handymen have encountered all types of water heater problems and have the experience to not only repair the water heater, but also to reduce the possibility of a future problem. The key to avoiding water heater problems is to regularly hire a handyman to check your water heater, or it could result in thousands of dollars in water heater repair. Our handymen in Sugar Land, Texas are available and are awaiting your call so that they may repair your water heater.
We take pride in your handymen and the services they provide, we understand the value of your home and will make sure to include you at every step of the repair process. You can rely on us to be there when you need us most, contact us and we will be there to assist you with any home repairs.